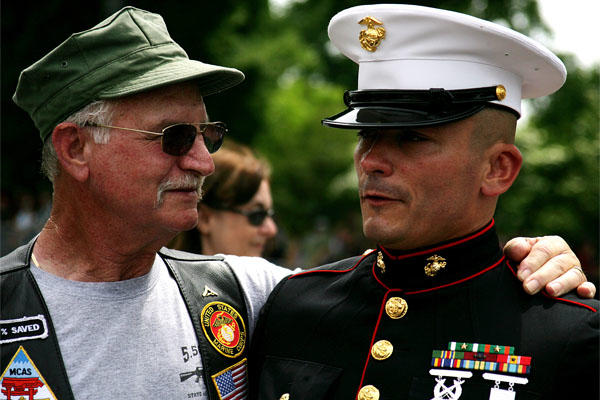 Do you want to celebrate the veteran in your life? You don't have to wait for an official birthday or holiday. If you want to express your love, support and gratitude "just because," here are a few gifts for veterans that are appropriate for any time of year.
1. Commemorative Item
Show your vet that you're proud of their service when you buy them a commemorative item. It might take the form of a special pin or cuff link; it might be a customized license plate or elaborate wall hanging. You might even want to engrave a set of dog tags. The specifics won't matter as much as the sentiment behind them, so think carefully about how to show your appreciation for your veteran.
2. Clothes
The good news is that there's plenty of veteran apparel to choose from if you're thinking about buying some as a present. The bad news is that there's so much stuff that you might have trouble finding the perfect clothing item! There are shirts, shoes, belts, hats, hoodies and all kinds of jackets. What's best for your particular vet? That's for you to decide.
3. Practical Gear
Is your vet going back overseas for another tour? Get them something practical like a watch, knife or compass. Not only will you rest a little easier knowing that they're equipped with the essentials, but you can also be warmed by the thought that they'll always think of you when they use their gift.
4. Novelty Mugs
Your gift doesn't have to be serious and solemn. Vets know how to laugh just like anyone else, and they'll get a good chuckle at a novelty mug that gently pokes fun at them or their reputation. As a bonus, they'll probably appreciate a nice coffee mug that they can actually use on cold mornings.
Gift shopping for veterans can be tough sometimes, but it'll be worth the effort when you can watch their face as they unwrap their present. If you want to show some love for the military person in your life, get them a gift that they'll always remember!